Google Fi, Google's cellular service, gets its third trademark in eight years. First it was Project Fi, then Google Fi, and now it'sGoogle Fi Wireless. It also has its third logo, which is kind of clever: It's an "F" similar to the sidebars and in Google's trademark rainbow colors.
There are now too Free trial mode. Google is harnessing the power of remotely configurable eSIMs to give anyone access An eSIM compatible phone Free trial of Google Fi for seven days / 10 GB. This makes it easy to run and test coverage. Google Fi is a mobile virtual network operator (MVNO) – cellular distributor – for the T-Mobile network, so whatever your T-Mobile coverage is, it's what Fi is like. Google says that during the trial period, "we'll give you a new Fi number to try on your phone, but your existing number will still work. During the trial period, you can choose between Fi or your existing network whenever you call, text, or use mobile data." You'll need to enter a credit card for the release. trial, and after seven days, you'll be automatically charged for the $50 "Simply Unlimited" plan. Google notes You can cancel immediately (that's one or two taps within the app) and you'll still get your seven-day trial.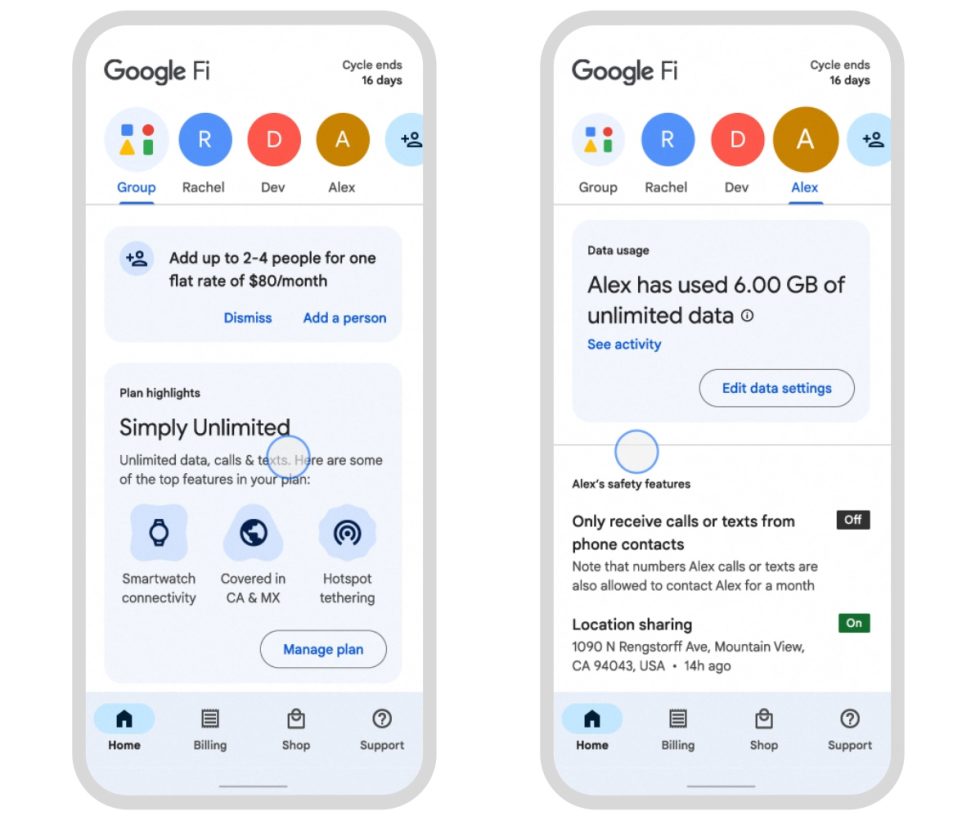 The Fi app is getting a "new family-centric experience" in the form of a large horizontal menu of family members across the top. Clicking on a person will show that person's data usage and a set of parental controls. Parents can restrict devices to only communicate with people in the contact list (Android only), turn on remote location sharing, or manage data limits.
Google Fi previously allowed you to share your smartphone on Flexible or Unlimited Plus plans for free, but now this feature is also coming to the basic Unlimited plan. Google also gives away free phones if you sign up for 24 months with Fi. Google says If you buy a Pixel 6a through Fi's site, "full price of the device will be due at time of purchase and you'll receive $449 through 24 monthly credits." That should come to zero dollars, and every line on your plan qualifies.
"Writer. Friendly troublemaker. Lifelong food junkie. Professional beer evangelist."